Sgt Paul Albert Roeder 11-A-5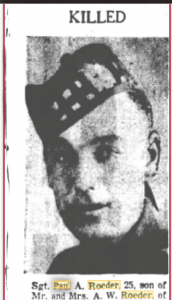 Paul was born on January 26 1919 in Southey Saskatchewan as the son of Albert William and Nellie Roeder, of Vancouver.
He was a student and member of the Church of England.
He enlisted on September 1 1939 in Victoria British Columbia and he went overseas to the UK on October 9 1942 and he went thereafter to France on June 6 1944 for the D-Day landing.
Paul was killed in action on Saturday August 12 age 25 near Falaise and he was temporarily buried in Mondeville and reburied on April 17 1945 in Bretteville S/Laize.
At his headstone: HE WAS LOYAL TO HIS COUNTRY AND GAVE FREELY OF THAT WHICH HE SO RICHLY INHERITED
His medals were: 1939-45 Star; France Germany Star; Defence Medal; War Medal; CVSM & Clasp.