Sgt Ora Marion Hall 1-B-10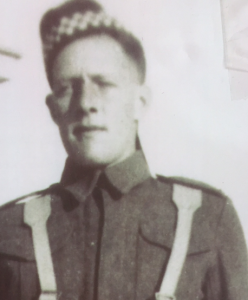 Ora was born on August 9 1915 in Provost Alberta as the son of Ernest Alexander and Agnes Hall. His parents were married on November 11 1914 in Provost. He was the husband of Lorraine Margaret Hall and they were married on November 4 1940. His brothers were: Ernest Harold, Earl Norman, Donald Raymond and Ealoner Hall and his sisters were: Marcella M. Clarke, Cpl Mabel Lorena Hall, Mrs. Eleanor B. Stephens, Doris Carolyn Hall, Irene Alice, Lois Mal and Era Evelyn Hall. And his half-sister was Mrs. Helene Kirkegaard. And Ronald Clarke, Harold and Gerald Stephens, Maryanne and Martin Larry Kirkegaard and Paul James.
His profession was a labourer and he was member of the United Church.
He enlisted on June 29 1940 in Edmonton and he went overseas to the UK on September 2 1941 and he was thereafter at the D-Day landing on June 6 1944.
Ora died of wounds on Thursday September 7 1944 age 29 in the SP Coy Mortar near Calais and he was temporarily buried in Ramburelles and reburied on September 28 1945 in Calais Leurbringhen.
His medals were: 1939-45 Star; France Germany Star; Defence Medal; War Medal; CVSM & Clasp.