Sgt Albert Ernest MacDonald 12-H-15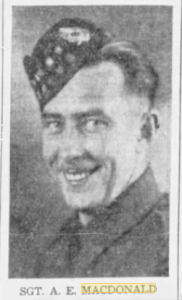 Albert was born on September 30 1919 in Penticton British Columbia, the son of Albert Earnest and Margaret K. E. MacDonald. He was the husband of Gladys Mary MacDonald, of Victoria British Columbia. Their children were Jacqueline (5) and Ronald (3) MacDonald and his brothers were Harold and Frank MacDonald. The other brother Wilfred Andrew MacDonald was already deceased in 1932.
Albert (Jeff) was a grocery clerk prior enlistment and member of the Church of England.
He enlisted on September 9 1939 in Victoria and he went on September 2 1941 overseas to the UK  and he went thereafter on June 6 1944 during the D-Day landing to Normandy. And after that he went back to England (date and reason unknown) and he disembarked on September 3 1944 France again.
He was captured in January 1945 by the Germans during a patrol and he was seriously wounded at the Waal River (Holland).
Albert died of these wounds whilst prisoner of war on Tuesday February 6 1945 at the age of 25 at Haldern West-Germany and he was temporarily buried there before neuing reburied on August 12 1946 in Holten.
On his headstone: One of the greatest One of the best May God grant him Eternal rest
His medals were: 1939-45 Star; France Germany Star; War Medal; Defence Medal; CVSM & Clasp and he was awarded on October 15  1944 the Military Medal  due to very bravery conduct near The Leopold Canal Belgium and Eede Holland.
He served with the 1st Bn The Canadian Scottish Regiment and also before with The North Nova Scotia Highlanders.