Pte William Henry Bell 3-H-14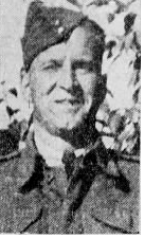 William was born on October 12 1909 in Edmonton as the son of William Henry (deceased in 1933) and Priscilla Bell, of Edmonton. His sisters were Mrs. Elizabeth Pearl Scott, Mrs. E. McClosky, Alberta Margaret Bell and Ruth Priscila Sleeves. Sister Jane died without issue.
He was a butcher and member of the Presbyterian Church. He build his own house in Edmonton and was interested in forestry and farming work after the war
He enlisted on June 25 1943 in Calgary and he went overseas to the UK on April 12 1944 and he went thereafter as reinforcement on June 9 to France.
William was killed in action on Saturday July 8 age 34 in the A Coy near Cussy and he was temporarily buried in Beny S/Mer and reburied on January 11 1945 there.
At his headstone: HOW SLEEP THE BRAVE WHO SINK TO REST BY ALL THEIR COUNTRY'S WISHES BLEST!
His medals were: 1939-45 Star; France Germany Star; War Medal; CVSM & Clasp.