Pte William Henry Bell 3-H-14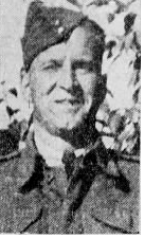 William werd op 12 oktober 1909 geboren in Edmonton als zoon van William Henry (overleden in 1933) en Priscilla Bell, uit Edmonton. Zijn zusters waren Mrs. Elizabeth Pearl Scott, Mrs. E. McComby, Alberta Margaret Bell en Ruth Priscila Sleeves. Zuster Jane stierf door een onbekende oorzaak.
Hij was slager en lid van the Presbyterian Church. Hij bouwde zijn eigen huis in Edmonton en hij wilde na de oorlog in de houtvesterij of in het boerenbedrijf.
Hij nam op 25 juni 1943 dienst  in Calgary en hij ging op 12 april 1944 overzees naar het VK en hij ging vervolgens op 9 juni als versterking naar Frankrijk.
William sneuvelde op zaterdag 8 juli op de leeftijd van 34 jr. in the A Coy bij Cussy en hij werd  tijdelijk begraven in Beny S/Mer en op 11 januari  1945 daar herbegraven.
Op zijn grafsteen: HOW SLEEP THE BRAVE WHO SINK TO REST BY ALL THEIR COUNTRY'S WISHES BLEST!
Zijn medailles waren: 1939-45 Star; France Germany Star; War Medal; CVSM & Clasp.