Pte William Edmund Nicholson 8-F-2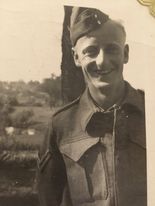 William was born on February 3 1922 in Ingersoll Ontario, the son of Bert William (deceased) and Edith Annie Nicholson. His parents were married in Cambridge England. He was married on February 6 1943 in Chatham with Mary Bernice Nicholson, of Chatham, Ontario and their son was Robert William Nicholson. Mary remarried after the war as Mrs. Davidson. His sisters were Mrs. Ruth Mae, Mrs. Olive Hamilton, Mrs. Margaret Hamilton and Edith Nicholson.
He was a carpenter and member of the Baptist Church. He liked skating and hockey and his hobbies were woodworking and he made small articles like lamps. He liked serious and educational movies and read such books too and he liked modern and semi-classical music.
He enlisted on September 4 1940 in London Ontario and he went overseas to the UK on September 20 1943 and he went thereafter on June 6 1944 to France for the D-Day landing. He was missed in action and wounded on July 8 and recovered.
William was killed in action on Friday, October 6 age 22 in the C Coy near the Leopold Canal in Belgium and he was temporarily buried in Maldegem before being reburied on July 16 1945 in Adegem.
On his headstone: EVER REMEMBERED" HUSBAND OF MARY NICHOLSON, FATHER OF BOBBY. CHATHAM, ONTARIO, CANADA.
His medals were: 1939-45 Star; France Germany Star; Defence Medal; War Medal; CVSM & Clasp.