Pte Victor Russell Douglas Garcia 5-C-13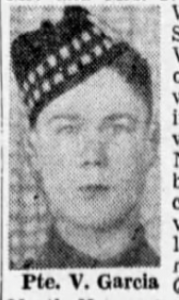 Victor was born on May 31 1923 in Lumphinnans, Scotland as the son of Ivon Ingold Gladstone and Mary Garcia of North Vancouver. His parents were married on July 4 1921 in Edinburgh Scotland. His brother Douglas Garcia died young in 1931 and his sister was Francis Strult Garcia.
His profession was a paint sprayer and he was member of the Presbyterian Church.
He enlisted on June 11 1941 in Vancouver and he went overseas to the UK on October 2 1942 and he went thereafter to France on June 6 1944 for the D-Day landing.
Victor died of wounds on the same day age 21 in the B Coy near Graye S/Mer and he was temporarily buried there and he was reburied on December 11 1944 in Beny S/Mer.
And his medals were: 1939-45 Star; France Germany Star; Defence Medal; War Medal; CVSM & Clasp.