Pte Victor Leslie Sanders 9-D-4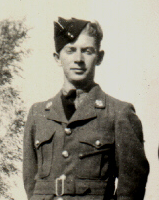 Victor was born on January 27 1922 in Havelock Ontario as the son of Arnold Victor and Margaret Sanders, of Odessa, Ontario. They were married on January 1 1913 in Havelock. His brothers were Gerald and Lawrence Sanders and his sisters Mrs. Wilfred Bongard and Francis Sanders.
He was a driver and mechanic and member of the United Church. His hobbies were hockey and all sports, reading (fiction), mechanics and he had a steady girlfriend.
He enlisted on August 13 1942 in Kingston Ontario and he disembarked the UK on September 19 1943. He went after that to NW Europe on July 2 1944.
Victor was killed in action on Monday October 16 1944 age 22 near the Leopold Canal in Belgium and he was temporarily buried in Maldegem and on July 20 1945 reburied in Adegem.
At his headstone: Save in the arms of Jesus, Save on His gentle breast
His medals were: 1939-45 Star; France Germany Star; Defence Medal; War Medal; CVSM & Clasp.