Pte Thomas Bratko 55-J-2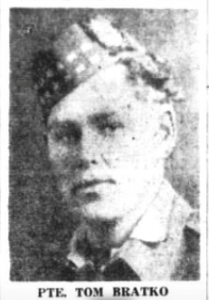 Thomas was born on May 17 1921 in Edmonton as the son of Oliver Fred and Jennie (deceased) Bratko. His parents were married on April 15 1919 in Vagerville Alberta. His brother was Daniel Bratko and his sisters were Alice Elizabeth Laine (also his next of kin), Karen and Warren Laine.
He was a miner and member of the Roman Catholic Church. He spoke Russian and Ukrainian.
He enlisted on November 11 1942 in Vancouver and he went on May 22 1943 overseas to the UK and he went thereafter on June 6 1944 to France in the first assault wave during the D-Day landing.
Thomas was herewith seriously wounded in action in the C Coy and he was then evacuated to an English hospital and he died on Thursday June 8 1944 age 23 and he was then temporarily buried at St Anne's cemetery in Gosport and later reburied at the Brookwood Military Cemetery.
At his headstone: IN MEMORY'S GARDEN WE MEET EVERY DAY
His medals were: 1939-45 Star; France Germany Star; Defence Medal; War Medal; CVSM & Clasp.