Pte Theodor Henschel 6-D-15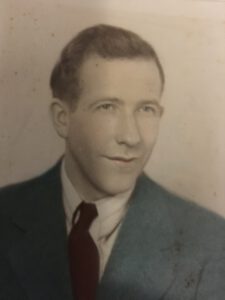 Theodor was born on September 19 1914 in Winnipeg and he was working as a machine operator in Vancouver when called up for NRMA service. He volunteered for active duty at Vancouver on 21 Jun 1944, he received his basic training at 131 CABTC Camrose Alberta, and
completed his infantry training at A.16 Calgary in Oct 1944. He arrived in UK on 31 Dec 1944 and he left for NW Europe on  March 24 1945. He joined 1 C SCOT R in 'A' Coy on 18 Apr 1945 as it prepared to leave Zwolle for Groningen and four days later he was first reported missing in action and Theodor was then killed in action on Sunday  April 22 1945 age 30 during the fighting to liberate Wagenborgen. He was temporarily buried in Siddeburen before being reburied on February 15 1946  in Holten.
On his headstone: REST IN PEACE EVER REMEMBERED BY HIS FATHER, SISTER AND BROTHERS
His medals were: 1939-45 Star, France-Germany Star, War Medal 1945; CVSM & Clasp.
His name is mentioned at the monument in Wagenborgen.