Pte Stanley Owen Jones 7-B-15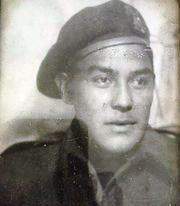 Stanley was born on September 1924 in Massett British Columbia, the son of Elizabeth Jones (father David Jones was already deceased when he enlisted). He was a First Nation of the Haida tribe of Massett. His brother was Vinton Jones and sisters were: Hester Marks, Myrtle Freda Pongracz, Norma and Marina Jones. There were more 6 other brothers and sisters earlier deceased.
The profession of Stanley was a dockworker and fisherman and he was a member of the Church of England. His hobbies were to play a piano and to read sometimes and hunting and he did not like sports.
He enlisted on March 10 1944 in Vancouver and went overseas on December 24 1944 to the UK. He went on February 13 1945 to N-W Europe. He was involved with the further advance of his regiment through NW Europe and he was  wounded on April 24 1945 during the battle of the Delfzijl Pocket in NE Holland.
Stanley died on Saturday September 8 1945 age 20 in N-W Germany as a result of a deadly accident by coming off a track of a carrier, which after that came upside down in a ditch and he fell under it unfortunately and he was drowned then.
He was  temporarily buried then in Osterscheps (Germany) before being reburied on June 22 1946 in Holten.
On his headstone: Rest eternal Grant unto him, O Lord; and let light perpetual Shine upon Him
His medals were: The 1939-45 Star; The France; Germany Star; The Defence Medal; The War Medal and The CVSM & Clasp.