Pte Stanley Casimir Gabriel Louie 10-H-J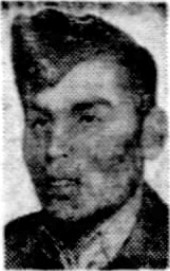 Stanley was born on July 14 1923 in Wadhams Cannery British Columbia as the son of Chief Johnnie Louie and Adele Louie, of Pender Harbour, British Columbia. His brothers were John, Albert Louie and his sister was Louise Louie.
He was a logger and member of the Roman Catholic Church and he attended an Indian school.
He enlisted on April 27 1944 in Vancouver and he went on November 29 overseas to the UK and he went thereafter on December 30 to NW Europe.
Stanley was killed in action on Monday February 19 1945 age 21 in the A Coy near the Moyland Wood during the battle of the Rhineland and he was temporarily buried in Bedburg Hau Germany and he was on September 19 1945 reburied in Groesbeek.
At his headstone: REQUIESCAT OF PACE
His medals were: 1939-45 Star; France Germany Star; War Medal and CVSM & Clasp.