Pte Ronald Stuart Walter Hoole 8-B-8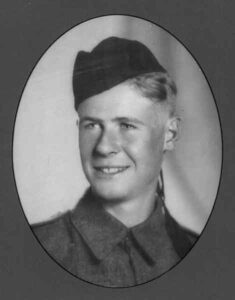 Ronald was born on October 22 1923 in Ganges, Salt Spring Island, British Columbia, the only son of Sidney Walter (English) and Gertrude Agnes Hoole nee Snow (South African), of Victoria, British Columbia. His sister was Heather Millicent Hoole and another family member was Arthur Snow.
He was a labourer and member of the Church of England.
He enlisted on June 26 1940 in Victoria  when he was just 16 years and he went on August 23 1941 overseas to the UK  and he landed on June 6 1944  during D-Day at Normandy.
Ronald was killed in action on Friday October 27 1944 age 21 in the A Coy during the battle of the Breskens Pocket and the Scheldt in Holland and he was temporarily buried in Hoofdplaat (Holland) before being reburied on June 12 1945  in Adegem.
On his headstone: O valiant heart Who to your glory came
His medals were: The 39-45 Star; The France Germany Star; Defense Medal; War Medal; CVSM & Clasp.
His name is mentioned at the Cenotaph in Ganges Salt Spring Island.
His grave is adopted on May 14 2022 by my son Keje van der Wolf.