Pte Roderick Rand McKenzie 52-I-3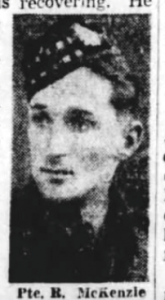 Roderick was born on September 25 1922 in Saskatoon Saskatchewan as the son of Frederick (Scottish and deceased) and Hilda (English) McKenzie. His parents were married in 1917 in Moose Jaw Saskatchewan. His mother remarried later as Mrs. Guy. His brothers were Frederick Kenneth (also in the overseas army) and Kenneth Frederick McKenzie and his sister was Ina McKenzie.
He was a laundry manager and member of the United Church. He played volleyball and baseball and liked swimming too. He attended movies and dancing and read a little.
He enlisted on October 24 1942 in Vancouver and he went on September 20 1943 overseas to the UK and he went thereafter on June 6 1944 to France in the first assault wave in the C Coy during the D-Day landing. He was seriously wounded at this day and then evacuated to England.
Roderick died of these wounds on Sunday July 30 1944 age 21 and he was then buried at the Brookwood Military Cemetery.
At his headstone: HE DIED THAT OTHERS MIGHT LIVE
His medals were: 1939-45 Star; France Germany Star; Defence Medal; War Medal; CVSM & Clasp.