Pte Robert Melville Ferris 8-A-8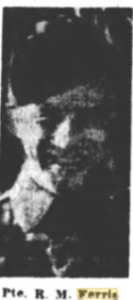 Robert was born on July 28 1909 in Cornwall England as the son of Robert and Agnes (deceased) Ferris, of Port Moody, British Columbia. His parents were married on October 11 1908 in Truro Cornwall. He came at the age of 11 months (1910) to Canada. His brothers were Leonard F. Ferris and George E. Ferris of whome one was overseas in the army too.
He was a truck driver and member of the Church of England. He played baseball and football at school, read mechanical magazines, went to shows, he liked fishing and sometimes swimming.
He enlisted on November 25 1941 the RCAF and was discharged there on November 4 1943.
He enlisted thereafter the army on December 9 1943 in Vancouver and he went overseas to the UK on July 3 1944 and he went thereafter to France on July 18.
Robert died of wounds on Wednesday August 16 age 35 in the D Coy near Falaise and he was temporarily buried in St Germain de la Blanche Herbe and reburied on January 24 1945 in Beny S/Mer.
At his headstone: HE LIVES WITH US IN MEMORY AND WILL FOR EVERMORE. REMEMBERED BY DAD, LEN AND GEORGE
His medals were: 1939-45 Star; France Germany Star; War Medal; CVSM & Clasp.