Pte Robert Clayton 8-B-13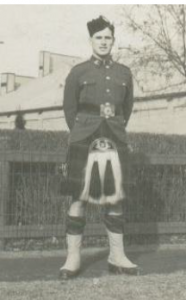 Robert was born on April 28 1923 in Coatbridge Scotland as the son of John Pender Clayton (Scottish) and Annie Clayton (English), of Vernon, British Columbia. His parent were married on June 9 1916 in Coatbridge. His brothers were William (in the army overseas too) and John Clayton and his sister was Mrs. G. MacLeod.
He was a student and member of the United Church of Canada.
He enlisted on May 22 1941 in Vernon British Columbia and he went overseas to the UK on January 3 1944 and he went thereafter on June 6 to France for the landing on D-Day.
Robert was killed in action on Friday June 9 age 21 in the A Coy near Putot en Bessin and he was temporarily buried there and he was reburied on February 1 1945 in Beny S/Mer.
At his headstone: AND WITH THE MORN, THOSE ANGEL FACES SMILE, WHICH I HAVE LOVED LONG SINCE AND LOST AWHILE
And his medals were: 1939-45 Star; France Germany Star; War Medal; CVSM & Clasp.
His name is at the monument in Putot en Bessin.