Pte Richard Wesley Badley 11-E-9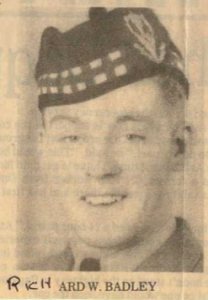 Richard was born on December 2 1924 in Kelowna British Columbia as the son of Albert Henry and Mary Badley of Kelowna. He had one brother in the army who came home from overseas and seven sisters.
He was a labourer and member of the United Church. His hobbies were all sports and collecting birds eggs, butterflies and stamps.
He enlisted on September 24 1943 in Kelowna  and he disembarked the UK on May 26 1944 and he went thereafter on July 11 to NW Europe.
Victor was killed in action on Tuesday October 10 1944 age 19 in the B Coy near the Leopold Canal in Belgium and he was temporarily buried in Bruges and on August 31 1945 reburied in Adegem.
At his headstone: He died that we might live
His Medals were: 1939-45 Star; France Germany Star; War Medal; CVSM & Clasp.