Pte Maurice Michael Beedham 8-B-14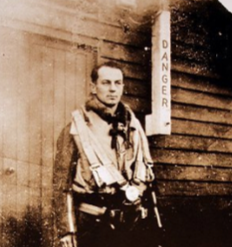 Maurice was born on January 31 1919 in Victoria British Columbia as the son of John Arthur (English) and deceased in 1930 and Ruby Beedham (Scottish), of Victoria. His parents were married on August 9 1911 in Victoria. His sisters were: Sybil Margaret McCullock and Majorie Arthur Beedham.
His profession was a bank teller and he was member of the Church of England.
He enlisted on June 20 1940 in Victoria and he went overseas to the UK on September 2 1941 and he went thereafter to France on D-Day June 6 1944.
Maurice was killed in action on Thursday June 8 age 25 in the B Coy near Putot en Bessin and he was temporarily buried there and on January 18 1945 reburied in Bretteville S/Laize.
At his headstone: I VOW TO THEE, MY COUNTRY, THE LOVE THAT MAKES UNDAUNTED THE FINAL SACRIFICE
His medals were: 1939-45 Star; France Germany Star; Defence Medal; War Medal; CVSM & Clasp.
His name is at the monument in Putot en Bessin.