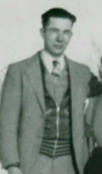 Matt was born on February 9 1922 in Calder Saskatchewan as the son of Tom (Austrian) and Vera (Romanian) Guick, of Riding Park, Manitoba. His parents were married in October 1905 in Calder. His brothers were Mike and Sam Guick and his other brothers John and Bill Guick were already deceased. His sister was Sophie Guick.
He was a laborer and member of the Greek Orthodox Church. He spoke English and Ukrainian. He liked hunting and played the accordion, banjo, guitar and mouth organ. He read western stories and farm magazines. He liked social and amusement and played at a lot of dances and he had a steady girl friend.
He enlisted on July 9 1942 in Winnipeg and he went on May 7 1944 overseas to the UK and he went thereafter as reinforcement on June 10 1944 to France.
Matt was killed in action on Saturday October 7 1944 age 22 near the Leopold Canal in Belgium and he was temporarily buried in Maldegem and on July 16 1945 reburied in Adegem. His grave was adopted thereafter by someone from Gendt.
At his headstone: YOU WILL BE REMEMBERED FOR EVER BY YOUR PARENTS, BROTHERS AND SISTER
His medals were: Medal 1939-45, France Germany Medal, War Medal; CVSM & Clasp.