Pte Leslie Keith Butterick 7-F-16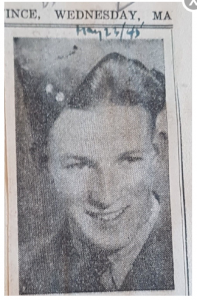 Leslie was born on October 6 1925 in Edmonton, as the son of Leslie Harold and Isabel Butterick.
He worked in an aircraft factory in Vancouver and he was member of the Church of England.
He enlisted on June 6 1944 in Vancouver and he went overseas to the UK on December 31 and he went thereafter as reinforcement on February 13 1945 to NW Europe  and he was taken on strength on March 27 to the Canadian Scottish Regiment. He fought as a member of the 'D' Coy near Emmerich and Deventer and he was missed then after an action on April 21 1945 during the first attempt to liberate Wagenborgen.
It appeared later that Leslie was captured heavily wounded and died of these wounds on Saturday April 21 1945 age 19  in a rowing boat over the Dollard to Emden Germany. He was temporarily buried at the Bolandus Friedhof in Emden and on March 12 1946 reburied in Holten.
At his headstone: IN MEMORY'S GARDEN WE MEET EVERY DAY
His medals were: The 1939-45 Star, The France Germany Star, the War Medal 1945; CVSM & Clasp.
His name is at the monument in Wagenborgen.