Pte Leonard James Harper 11-B-12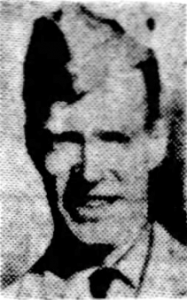 Leonard was born on February 16 1914 in Cupar, Saskatchewan as the son of William Gawn Davidson and Margaret ( N Ireland) Harper. They were married on February 27 1907 in Belfast N Ireland. His brothers were Robert George, Lloyd David, Howard W., John D. (in the army overseas too) and Elmer R. Harper. His sister Dorothy May Harper died in 1913 age 2.
He was a metal worker and member of the United Church. He played hockey, baseball and basketball and enjoyed too golf, badminton, swimming and fishing and played piano. And he was president of the athletic club. His hobby was writing fiction and he liked to read books of science, philosophy and political economy. And he attended movies and dances.
He enlisted on June 17 1944 in Vancouver and he went on December 31 1944 overseas to the UK and he went thereafter on February 15 1945 to NW Europe.
Leonard died of wounds on Thursday March 29 age 31 in the A Coy near Emmerich Germany during the battle of the Rhineland. And he was temporarily buried in Bedburg Hau Germany and he was then on September 24 1945 reburied in Groesbeek.
His medals were: 1939-45 Star; France Germany Star; War Medal; CVSM & Clasp.