Pte Kenneth Joseph Branscombe 13-A-14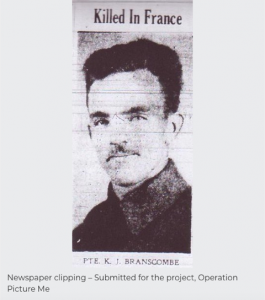 Kenneth was born on November 28 1918 in Knightville New Brunswick as the son of Chester Ezra (deceased) and Dorothy Branscombe, of Saint John, New Brunswick. He was married with Madeline Branscombe on October 10 1938 in Saint John New Brunswick (she died in October 1943) and they had a son Kenneth Joseph. His brothers were Charles Foster (died in 1930), Harold Garfield and Romuald Ernest Branscombe. His sisters were Ella May Constantine and Lena Doris Kelly Branscombe. His half-brother was Elmer Elton Dobson and his aunt Mary Goddard.
His profession was a driver and he was member of the Roman Catholic Church. He liked baseball, snowshoeing and reading.
He enlisted on May 4 1943 in Fredericton New Brunswick and he went overseas to the UK on March 14 1944 and he went thereafter to France as reinforcement on June 6 1944.
Kenneth was killed in action on Saturday July 8 age 25 in the B Coy near Cussy and he was temporarily buried in Beny S/Mer and he was reburied there on April 27 1945.
At his headstone: I CRIED UNTO HIM WITH MY MOUTH AND HE WAS EXTOLLED WITH MY TONGUE"
And his medals were: 1939-45 Star; France Germany Star; War Medal; CVSM & Clasp.