Pte Kenneth Frank Durham 7-C-1
Kenneth was born on December 16 1923 in Kitscoty Alberta as the son of Walter Frank (British) and Marjorie Durham, of Violet Grove, Alberta. His parents were married on January 23 1920. His brothers were Milton, Arthur and George Durham (Army too) and his sisters: Mrs. Mary Pratt and Iris Durham.
He was millworker at a sawmill and he was a member of the Church of England.
He enlisted on March 20 1943 in Edmonton and he went overseas to the UK on September 1 1943 and thereafter to France for the D-Day landing on June 6 1944.
Kenneth died of wounds on Friday June 9 age 20 in the A Coy near Putot en Bessin and he was temporarily buried there and on January 18 1945 reburied in Bretteville S/Laize.
At his headstone: TREASURED THOUGHTS OF ONE SO DEAR TIME ROLLS ON BUT MEMORIES LAST
His medals were: 1939-45 Star; France Germany Star; Defence Medal; War Medal; CVSM & Clasp.
His name is at the monument in Putot en Bessin.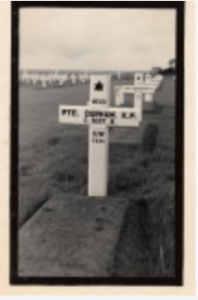 old grave photo