Pte Kenneth Calli 17-A-13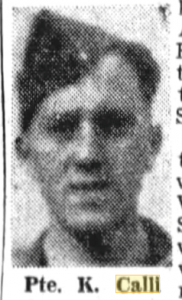 Kenneth was born on July 20 1916 in North Vancouver as the son of Mariano (deceased) and Aglita Calli (both Italians), of North Vancouver. His parents were married on November 1 1901 in Maletto Sicily. He was born in Canada and his parents emigrated to Canada in 1909. His brothers were Anthony, Samuel (Canadian Army in Italy) and Vincenzo Calli and his sisters were Bessie and Nancy Calli (deceased in 1927).
He was a derrick operator and member of the Roman Catholic Church. He was interested in sports like football and softball, recreating gold bowling and reading in general.
He enlisted on October 13 1943 in Vancouver and he went on May 7 1944 overseas to the UK and he went thereafter on June 13 to France as reinforcement.
Kenneth was killed in action on Tuesday August 15 age 28 in the D Coy near Falaise and he was temporarily buried 2 km's East of Soulangy and he was on May 17 1945 reburied in Bretteville S/Laize.
At his headstone: THOU SHALT LOVE THY NEIGHBOUR AS THYSELF. >>>ST. MARK XII:31
His medals were: 1939-45 Star; France Germany Star; War Medal; CVSM & Clasp.