Pte Joseph Thomas Maloney 9-G-3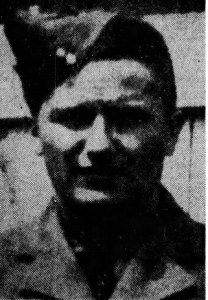 Joseph (Tom) was born on November 2 1922 in Perkins Mills Quebec as the son of Thomas and Hilda Maloney, of Perkins Mills.
He was a labourer and member of the Roman Catholic Church.
He enlisted on April 18 1944 in Montreal and he went on October 12 overseas to the UK and he went thereafter on November 11 to France.
Joseph was killed in action on Sunday February 18 1945 age 22 in the C Coy at the Moyland Wood during the battle of the Rhineland. And he was temporarily buried in Bedburg Hau Germany and he was then on September 12 1945 reburied in Groesbeek.
His medals were: 1939-45 Star; France Germany Star; War Medal; CVSM & Clasp.