Pte John James Faller 8-B-15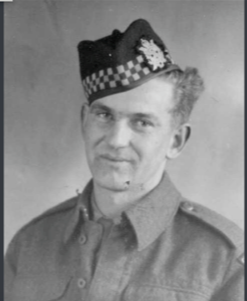 John was born on August 14 1920 in Portage la Prairie Manitoba as the son of John (of North Dakota but address unknown and English) and Hetty Faller (Scottish). He was adopted by his grandparents Sebastian and Mary Voller of Lethbridge Alberta. And he had five brothers and sisters of whom he did not know much. His uncle Fred Voller became his next of kin.
His profession was a farm labourer and tractor operator and he was member of the Roman Catholic Church. He spoke English and German. He was fond of sports, and played baseball and football.
He enlisted on March 7 1942 in Camrose Alberta and he went overseas to the UK on June 12 1942 and he went thereafter to France on Tuesday June 6 1944 during the D-Day landing.
John was killed in action on Friday June 9 age 23 in the A Coy near Putot en Bessin and he was temporarily buried there and he was reburied on February 1 1945 in Beny S/Mer.
And his medals were:1939-45 Star; France Germany Star; Defence Medal; War Medal; CVSM & Clasp.
His name is at the monument in Putot en Bessin.