Pte John Alexander Fraser 11-A-9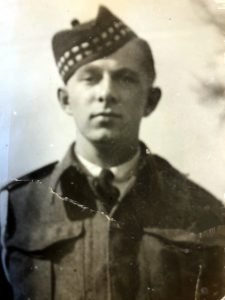 John was born on January 12 1925 in Cranbrook British Columbia as the son of Mr. (name unknown and American) and Dorothy Ellen (England) Fraser. He was the stepson of Gustav Edwardson, of Fraser Mills, British Columbia. His sister was Ann May Fraser.
He was a mill hand and member of the Church of England.
He enlisted on September 8 1943 in Vancouver and he went on May 7 1944 overseas to the UK and he went thereafter as reinforcement on June 9 to France. He went on July 7 for an appendicitis to an English hospital and disembarked on November 11 again NW Europe.
John was killed in action on Monday February 19 1945 age 20 in the A Coy at the Moyland Wood during the battle of the Rhineland. And he was temporarily buried in Bedburg Hau Germany and he was then on September 19 1945 reburied in Groesbeek.
At his headstone: IN OUR HOME HE IS FONDLY REMEMBERED, SWEET MEMORIES CLING TO HIS NAME. His medals were: 1939-45 Star; France Germany Star; Defence Medal; War Medal; CVSM & Clasp.