Pte James Anthony Ryan 9-C-1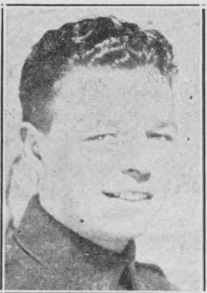 James was born on January 13 1922 (he gave first as date of birth June 15 1921) in Montreal, the son of Thomas and Margaret Ryan, of Montreal. His parents were married on October 10 1917 in Montreal. His brothers were Patrick, Thomas (both in the army too) and Henry Ryan. His sisters were Cinn K., Frances, Margaret and Winnifred Ryan.
He was a merchant seaman and member of the Roman Catholic Church. He liked boxing and reading adventure stories.
He enlisted on October 12 1943 in Vancouver and went on May 8 1944 overseas to the UK  and he went on June 23  as reinforcement to France.
James was killed in action on Sunday October 8 age 22 in the A Coy near the Leopold Canal in Belgium and he was temporarily buried in Maldegem and reburied on July 17 1945 in Adegem.
On his headstone: THE SOULS OF THE JUST ARE IN THE HAND OF GOD AND THE TORMENT OF DEATH SHALL NOT TOUCH THEM.
His medals were: 1939-45 Star; France Germany Star; War Medal; CVSM & Clasp.