Pte Ivan Lee Lambright 20-F-1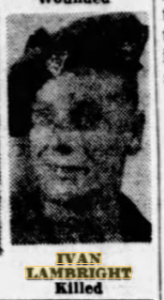 Ivan was born on February 24 1916 in Carsdale Alberta as the son of Henry (deceased) and Bessie Lambright. He was married on November 12 1934 in Yale British Columbia with Bertha Edith Lambright, of Vancouver. They had a daughter Audrey Bertha and two sons Howard Ivan and Gary Lambright. Bertha remarried after the war as Mrs. Ciccone. His brothers were Wesley, Clarence and Eugene ( both also in the army overseas) and Leroy Lambright. His sisters were Mrs. Mary Smith, Susie Nucleby and Edna Norberg.
He was a labourer and member of the United Church.
He enlisted on September 29 1939 in Vancouver and he went on December 31 1939 overseas to the UK and he went thereafter on June 10 1944 as reinforcement to France.
Ivan was killed in action on Wednesday February 14 1945 age 28 near Kleve Germany during the battle of the Rhineland and he was temporarily buried in Millingen and he was on February 21 1946 reburied in Groesbeek.
At his headstone: ALWAYS REMEMBERED BY MOTHER AND FAMILY
His medals were: 1939-45 Star; France Germany Star; Defence Medal; War Medal and CVSM & Clasp.