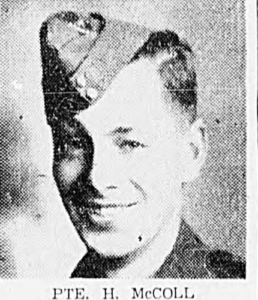 Hugh was born on January 29 1923 in Winnipeg, the son of Thomas (place unknown) and Jennie McColl, of Winnipeg. His parents were married on June 15 1912 in Winnipeg. His brothers were Thomas James, Donald Kemp, Kenneth Duncan and John Gilford McColl. And his sisters were Olive Janet and Dorothy Joan McColl, Mrs. James Morrison, Mrs. Ernest Smith and Mrs. James Williams.
He was an engine wiper and member of the United Church.
He enlisted on February 19 1943 in Winnipeg and he went on January 4 1944 overseas to the UK and he went thereafter on June 6 1944 to France for the D-Day landing.
Hugh was killed in action on Saturday October 14 age 21 in the D Coy near the Leopold Canal in Belgium and he was temporarily buried then in Maldegem and on July 17 1945 reburied in Adegem.
On his headstone: GOD HAS HIM IN HIS KEEPING WE HAVE HIM IN OUR HEARTS
His medals were:  1939-45 Star; France Germany Star; Defence Medal; War medal; CVSM & Clasp.