Pte Herbert Russell Cooney 6-C-1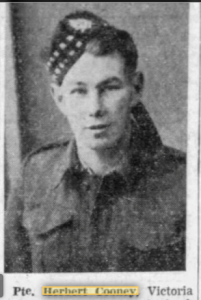 Herbert was born on July 2 1923 in Victoria British Columbia as the son of Charles Russell Cooney and Elsie Cooney, of Victoria. His parents were married on July 29 1922 and his father was serving too in Italy. His brothers were Wilfred and Gerald and his sister Patricia Cooney.
His profession was a plumber and he was member of the Church of England.
He enlisted on October 27 1942 in Victoria and he went overseas to the UK on June 24 1943 and he went thereafter to France for the D-Day landing on June 6 1944.
Herbert was killed in action on Friday June 9 age 20 in the D Coy near Putot en Bessin and he was temporarily buried there and on January 18 1945 reburied in Bretteville s/Laize.
At his headstone: HE LIVES IN OUR HEARTS BELOVED AND UNFORGOTTEN
His medals were: 1939-45 Star; France Germany Star; Defence Medal; War Medal; CVSM & Clasp.
His name is at the monument in Putot en Bessin.