Pte Henry Oscar Renner 6-D-4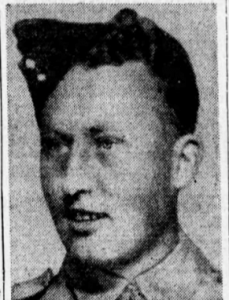 Henry was born on 19 January 1921 in the farm community of La Jord, Saskatchewan as the son of Karl and Wilhelmina Renner, of White Rock, British Columbia.
He worked as a mill hand in Victoria till called up for training and service under the NRMA in April 1942, He volunteered for active duty on 15 Jul 44 at Fort Mary Hill while serving in 5(BC) Cst Def Regt RCA, and transferred to infantry at the 1st Cdn Inf Training Brigade at Debert NS on 16 Jul 44.
He arrived in the UK on 21 Oct 44, and went on to NW Europe on 18 Nov, He joined 1 C SCOT R on 1 Dec 44 in the Nijmegen Salient, and was wounded by enemy action on 18 Jan 45, and was evacuated to Nos. 8 and 12 Cdn General Hospitals in Belgium, On 5 Apr 45 he rejoined the unit as a member of 'D' Coy, just before the fighting at Deventer.
Henry was killed in action on Saturday April 21 1945 age 24 during the first attack for the liberation of Wagenborgen. He was temporarily buried in Siddeburen and on February 15 1946 reburied in Holten
At his headstone: BLESSED ARE THE DEAD WHICH DIE IN THE LORD REVELATION XIV.13
His medals were: 1939-45 Star, France-Germany Star; War Medal 1945CVSM & Clasp.
His name is at the monument in Wagenborgen.