Pte Henry Gilbert 8-C-1
Henry was born on February 12 1923 in Vancouver as the son of James Grant and May Gilbert (both English) , of Vancouver. He was married on October 2 1943 with Kathleen Frances Gilbert nee Worth, of Vancouver. Their sons were Grant Henry and Leopold Gilbert. His brothers were Hector, Albert and William Gilbert and his sisters Margarit Nunn and Agnes Henderson.
He was a shipyard hand and member of the United Church. He liked to play baseball and football. He used to collect stamps and bird eggs and read detectives, western and adventure stories.
He enlisted on June 17 1943 in Vancouver and he went overseas to the UK on May 7 1944 and he went thereafter as reinforcement on June 13 to France.
Henry died of wounds on Tuesday August 15 age 21 in the B Coy near Falaise and he was temporarily buried in Gaumesnil West of Caen-Falaise and reburied on January 19 1945 in Bretteville S/Laize.
At his headstone: HYIE" ALWAYS LOVED BY YOUR WIFE KAYE AND SON GRANT
His medals were: 1939-45 Star; France Germany Star; War Medal; CVSM & Clasp.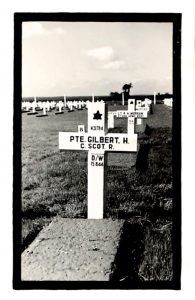 old grave photo