Pte Gilbert Albert Mullen 6-C-7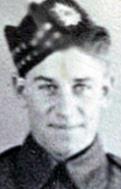 Gilbert was born on October 16, 1922 in Yellow Grass Saskatchewan as the son of James Mullen (Irish and deceased) and of Mable M. nee Soames (English) Mullen, of Melfort, Saskatchewan. His brothers were Clarence James, Gerald and Donald Ritchie Mullen.
And his sisters were Mrs. Margaret Mary Kurty, Maxine Evelyn, Eileen May, and Eleanor Bertha Mullen.
His profession was a truck driver and he was member of the Church of England.
He enlisted on November 5 1942 in Regina and he went overseas to the UK on June 24 1943 and he went thereafter to France on June 6 1944 for the D-Day landing.
Gilbert was killed in action on Saturday June 9 age 21 in the B Coy near Putot en Bessin and he was temporarily buried there and he was on January 18 1945 reburied in Bretteville S/Laize.
At his headstone: RESTING IN PEACE
And his medals were: 1939-45 Star; France Germany Star; Defence Medal; War Medal; CVSM & Clasp.
The Government of Saskatchewan named Mullen Lake in memory of Private Gilbert Albert Mullen.
His name is at the monument in Putot en Bessin.