Pte Frederick Thomas Berry 16-A-12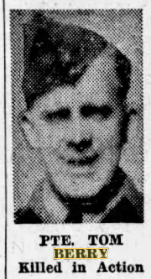 Frederick was born on August 22 1908 in Regina Saskatchewan, the son of Thomas Charles and Margaret Ann Berry-Lewis. He was the husband of Sadie May Berry, of Vancouver BC. His brother was Frank L. Berry and his half-brothers were Raymond H. and Arthur S. Berry and sisters were May Clark-Berry and Muriel Darney-Berry. His both parents were already deceased when he enlisted.
His profession was a lumber checker and crane operator in a mill and of belief the United Church. His hobbies were: auto mechanics, carpentry, occasionally dances, reading a little and sports: swimming, fishing, skiing, tennis and golf.
He enlisted on May 4 1943 in Vancouver and was placed to the Canadian Scottish Regiment and he went overseas to the UK on June 16 1944 and disembarked France on September 24.
Frederick was taken on strength on January 13 1945 to the Lake Superior Regiment and was killed in action then on Wednesday January 17 1945 age 36.
He was temporarily buried in 's-Hertogenbosch, Holland before being reburied on October 22 1945 in Groesbeek.
On his headstone: In memory of my dear husband "Beloved take thy rest" his loving wife Vancouver BC
His name is also mentioned at the monument of the Lake Superior Regiment in Thunder Bay Ontario although his name is still mentioned at the CWGC list as a member of the Canadian Scottish Regiment.
His medals were: 1939-45 Star; France Germany Star; War medal; CVSM & Clasp.
He served with the Canadian Scottish Regiment and the Lake Superior Regiment.