Pte Frederick John Harris 8-B-11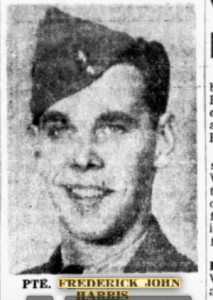 Frederick was born on April 9 1921 in Vancouver as the son of Frederick Edward and Mary Joan Harris (Scotch), of Vancouver. His parents were married on March 3 1920 in Vancouver. He was the husband of Ethel Harris nee Crebbin, of Vancouver and they were married on October 2 1943 in Vancouver. His sister was Marjorie Joan Harris.
His profession was a ship yard worker and he was member of the Pentecostal Church (OD).
He enlisted on September 18 1942 in Vancouver and he went overseas to the UK on January 3 1944 and he went thereafter to France in the first assault for the D-Day landing on June 6.
Frederick was killed in action on Friday June 9 1944 age 23 in the C Coy near Putot en Bessin and he was temporarily buried there and on January 18 1945 reburied in Bretteville S/Laize.
At his headstone: ALWAYS LOVED AND REMEMBERED
His medals were: 1939-45 Star; France Germany Star; War Medal; CVSM & Clasp.
His name is at the monument in Putot en Bessin