Pte Fred Fidel Gogan 10-H-8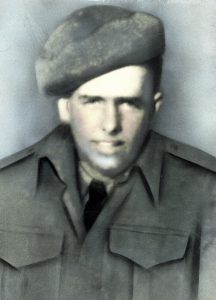 Fred was born on April 3 1908 in Rogerville New Brunswick as the son of Livy (deceased) and Livail Veronique Gogan (Goguen) . His sister Emma Collette was his next of kin and his brothers were Edward and Clifford Gogan. Note His official names are Joseph Fidèle Goguen.
He was a labourer and member of the Roman Catholic Church. He spoke French and English.
He enlisted on August 10 1943 in Calgary and he went on March 14 1944 overseas to the UK and he went thereafter as reinforcement on June 9 to France. He was missing in action then on October 28 and recovered back on November 1 from the Germans.
Fred was killed in action on Monday February 19 1945 age 36 in the A Coy near the Moyland Wood during the battle of the Rhineland and he was temporarily buried in Bedburg Hau Germany and he was then on September 19 1945 reburied in Groesbeek.
At his headstone: IN MEMORY OF MY BROTHER FRED. I'LL NEVER FORGET YOU IN ALL MY LIFE. E.C
His medals were: 1939-45 Star; France Germany Star; War Medal and CVSM & Clasp.