Pte Frank Lutz 11-D-11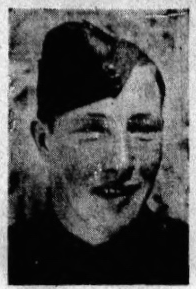 Frank was born on March 9, 1925 in Mount Herbert, Prince Edward Island as the son of Mr. (place unknown) and the unmarried Mrs. Lutz (deceased). His foster father was Robert Rhynes of French Fort Price Edward Island.
He was a farmer and member of the United Church. He played some local hockey and read the newspapers, magazines, westerns and war stories.
He enlisted on January 27 1944 in Halifax Nova Scotia and he went on July 27 overseas to the UK and he went thereafter on September 6 to France. He was seriously wounded in action then in the B Coy on February 19 1945 at the Moyland Wood during the battle of the Rhineland.
Frank died of these wounds on Monday March 2 1945 age 19 and he was temporarily buried at Mariënbosch in Nijmegen and he was then on September 28 1945 reburied in Groesbeek.
His medals were: 1939-45 Star; France Germany Star; War Medal; CVSM & Clasp.