Pte Frank Andrew Kenny 17-A-6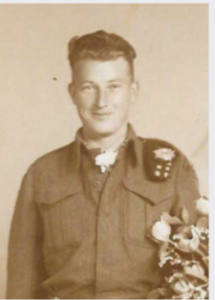 Frank was born on May 26 1915 in Bevan British Columbia as the son of Andrew and Mary Kenny (both Irish) of Port Alberni British Columbia. His parents were married on November 2 1901 in New York USA. He was married in 1944 in England with Joan Alice Laura Kenny nee Bunton, of Copnor, Portsmouth England. His brothers were John (in the army too) and Joseph Kenny and his sisters were Winnie Morgan, Mary Morgan, Norah Dally, Genevieve Kenny and Rita Cox.
He was a mill worker and member of the Roman Catholic Church.
He enlisted on July 10 1940 in Duncan British Columbia and he went on June 12 1942 overseas to the UK and he went thereafter on June 6 1944 to France as a carrier driver for the D-Day landing.
Frank died of wounds on Tuesday August 15 age 29 in the C Coy near Falaise and he was temporarily buried at 2 km's East of Soulangy and reburied on May 17 1945 in Bretteville S/Laize.
At his headstone: IN LOVING MEMORY OF A DEAR SON AND HUSBAND R.I.P
His medals were: 1939-45 Star; France Germany Star; Defence Medal; War Medal; CVSM & Clasp.