Pte Edwin Michael Charlton 9-C-7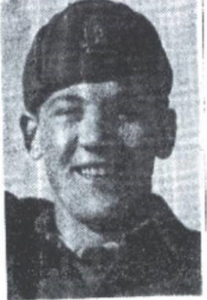 Edwin was born on November 5 1924 in Halifax Nova Scotia, the son of Louis Henry and Viola Catherine Charlton of Halifax. His parents were married on November 28 1912 in Halifax. His brothers were William S., Joseph P., Louis J., Cecil A., Douglas F., and Gordon B. Charlton. His sisters were Mary Bellefontaine, Hilda Purcell and Joan Charlton.
He was a riveter at a shipyard and member of the roman Catholic Church. He liked to play baseball, softball, hockey, rugby, soccer and swimming. He read newspapers, fiction and other things.
He enlisted on October 20 1943 in Halifax and he went on May 7 1944 overseas to the UK and he went thereafter on September 8 to France.
Edwin was killed in action on Friday October 13 1944 age 20 in the A Coy near Eede Holland and the Leopold Canal in Belgium and he was temporarily buried in Maldegem before being reburied on July 17 1945 in Adegem.
His medals were: The Medal 1939-45, France Germany Medal, War Medal; CVSM & Clasp.