Pte Edward Lawrence O'Connor 8-F-5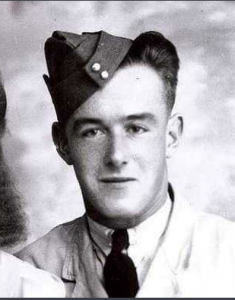 Edward was born on September 27 1922 in Lindsay Ontario as the son of Edward James and Elizabeth O'Connor. He was married on June 27 1943 in Peterborough Ontario with Pearl Irene O'Connor and their daughter was Linda Marlene O'Connor. Pearl remarried after the war as Mrs. Watson. His brother was Steve O'Connor and his sister Berniece Carley.
He was a butcher and packer and member of the Roman Catholic Church. He liked dancing, shows etc., fishing and read a bit in pulp magazines
He enlisted on May 11 1943 in Kingston Ontario and he went overseas to the UK on December 21 and he went thereafter as reinforcement on June 13 1944 to France.
Edward was killed in action on Saturday October 7 age 22 in the B Coy near the Leopold Canal in Belgium and he was temporarily buried in Maldegem and reburied on July 16 1945 in Adegem.
His Medals were: 1939-45 Star; France Germany Star; Defence Medal; War Medal; CVSM & Clasp.