Pte Edgar Herrmann 19-B-16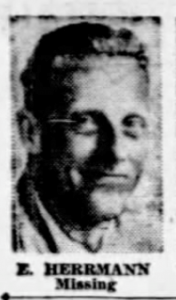 Edgar was born on August 8 1912 in New Westminster British Columbia as the son of Leonard James Herrmann (New Zealand) and Edith Emma (English) Herrmann and both deceased. They were married in September 1911 in Vancouver. His sister Dorothy Oxenbury and his brother Richard Cockerill Herrmann were his next of kins.
He was a logger and painter and member of the Church of England. He enjoyed golf, badminton and swimming, hikes, shows and bowling. He read considerably non-fiction.
He enlisted on June 15 1944 in Vancouver and he went on September 4 overseas to the UK and he went thereafter on September 15 to France. He was missed on February 18 1945 and was captured then by the Germans.
Edgar died of wounds whilst POW on Tuesday February 20 age 32 in the C Coy at the Moyland Wood during the battle of the Rhineland. And he was temporarily buried in Ginderich Germany and he was then on March 12 1946 reburied in Groesbeek.
At his headstone: EVER REMEMBERED BY THOSE AT HOME
His medals were: 1939-45 Star; France Germany Star; War Medal; CVSM & Clasp.