Pte Earl Joseph Voshell 10-H-4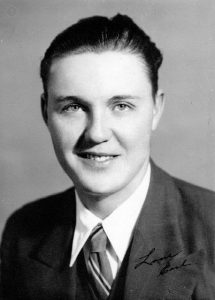 Earl was born on August 26 1925 in Meskanaw Saskatchewan as the son of Jesse Barber and Charlotte Voshell (both USA), of Camrose, Alberta. They were married on December 3 1921 in Nevis Minnesota USA. His brothers were Benny and Dennis Voshell and his sisters Lorraine Turgeon, Trudy and Donna Voshell.
He was a forklift operator and member of the United Church.
He enlisted on May 22 1944 in Vancouver and he went on November 29 1944 overseas to the UK and he went thereafter on December 30 to NW Europe.
Earl was killed in action on Monday February 19 1945 age 19 in the B Coy at the Moyland Wood during the battle of the Rhineland. And he was temporarily buried in Bedburg Hau Germany and he was then on September 19 1945 reburied in Groesbeek.
At his headstone: DEAR SON AND BROTHER. NOT LOST TO US FOR YOU LIVE FOR EVER IN OUR HEARTS
His medals were: 1939-45 Star; France Germany Star; War Medal; CVSM & Clasp.