Pte David Stinsen Henderson 8-G-4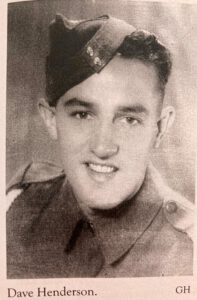 David was born on August 30 1919 in Belfast North Ireland, the son of William ( deceased) and Rachel Henderson (both English), of Armstrong, British Columbia. His brothers were: William, Alfred, Ernest and George and his sisters: Lillian Isabel (deceased in 1921) and Muriel Henderson.
His profession was a resawyer at a sawmill and he was a member of the United Church. His hobbies were visiting shows, sports like lacrosse, hunting, some reading light fiction and taxidermy.
He enlisted on December 16 1943 in Prince Rupert, British Columbia and he went on May 25 1944 overseas to the UK  and he disembarked on July 28 thereafter in France . He was on August 5 1944 taken on strength  from the Royal Regina Rifles to the Canadian Scottish Regiment.
David David died on Tuesday October 17 1944 age 25 due to a sad accident with a found discharged German gun during the battle of the Leopold Canal in Belgium. He was temporarily buried then in Maldegem before being reburied on July 17 1945 in Adegem.
On his headstone: Gone but not forgotten He laid down his life for his friends Asleep in Jesus
His medals were: The 39-45 Star; The France Germany Star; Defence Medal; War Medal; CVSM & Clasp.
His name is mentioned at the cenotaph in Armstrong British Columbia.
His grave was adopted on May 14 2022 by my daughter in law Manon van der Wolf nee Bruggeman.