Pte David Hindmarsh 7-B-5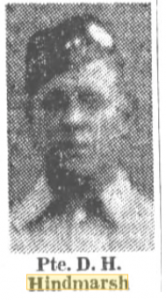 David was born on January 18 1918 in Nanaimo British Columbia as the son of Thomas and Elizabeth Hindmarsh (both English). He was the husband of Jane Hindmarsh, of Newbiggin-on-Sea, Northumberland, England. Their daughters were Elizabeth Ann Cynthia and Dorothy Lynn Kathleen Hindmarsh. His sister was Mrs. E.M. Glover.
He was a barber and member of the Church of England.
He enlisted on July 10 1940 in Vancouver and he went overseas to the UK on March 29 1942 and he went thereafter on June 6 1944 to France for the D-day landing.
David died of wounds due to an accidental explosion on Saturday July 1 age 26 in the SP Coy near Rots-Le Hamel and he was temporarily buried in Le Hamel and reburied on February 5 1945 in Beny S/Mer.
At his headstone: GREATER LOVE HATH NO MAN THAN THIS, THAT A MAN LAY DOWN HIS LIFE FOR HIS FRIENDS
His medals were: 1939-45 Star; France Germany Star; Defence Medal; War Medal; CVSM & Clasp.
His name is at the monument in Rots, Normandy.