Pte Carl Vernon Harvey 9-E-11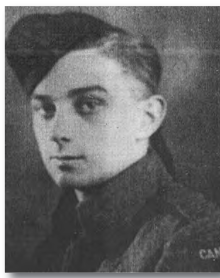 Carl was born on August 22 1922 in Moncton New Brunswick as the son of Frederick James Harvey and Valerie Priscilla (American) Harvey, of Moncton. His brother was James Harvey and sister Anne Marie Harvey.
He was a grocery clerk and member of the United Church.
He enlisted on May 24 1941 in the 1st Tank brigade in Moncton and he went on June 19 overseas to the UK and disembarked Sicily on June 26 1943 with this Tank brigade and was wounded in action on February 10 1944. And he disembarked the UK again on May 18 and he went thereafter on October 10 to France.
Carl died of wounds due to a rifle accident in a carrier on Saturday October 21 1944 age 22 in the C Coy near the Breskens Pocket and the Scheldt and he was temporarily buried in Maldegem and on July 23 1945 reburied in Adegem.
At his headstone: PEACE, PERFECT PEACE "UNTIL WE MEET AGAIN" SON OF VALERIE & FRED HARVEY, MONCTON, N.B., CANADA
His medals were: Medal 1939-45, Italy Star; France Germany Medal, Defence Medal; War medal; CVSM & Clasp.