Pte Bruce Byron Ray 14-A-13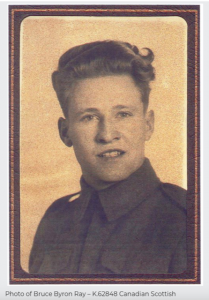 Bruce was born on April 12 1921 in Garfield Alberta as the son of Harvey Lloyd (in the army too) and Mary Birdie Ray (both Irish). They were married on April 19 1920 in Carstairs Alberta. His brothers were Duane Cecil (also in the army), Edgar, Ronald and Terence Ray and his sisters were Bernice, Viola M. Ray ( both in the army too) and Hazel Ray. His brother Walter (1930) and sister Evelyn Ray (1937) already deceased earlier.
He was a blacksmith helper and member of the United Church. He enjoyed baseball, hunting, fishing and his hobby was carving and reading a book of his favorite author.
He enlisted on July 9 1940 in Burns Lake British Columbia and he went on July 3 1944 overseas to the UK and he went thereafter on October 14 as reinforcement to Belgium. He was seriously wounded in action on March 28 1945.
Bruce died of these wounds on Friday March 31 age 23 in the B Coy near Emmerich Germany during the battle of the Rhineland and he was temporarily buried in Bedburg Hau Germany and he was then on September 24 1945 reburied in Groesbeek. His grave was adopted after the war by a lady of Nijmegen.
His medals were: 1939-45 Star; France Germany Star; War Medal; CVSM & Clasp.