Pte Arthur Arnold Black 10-C-15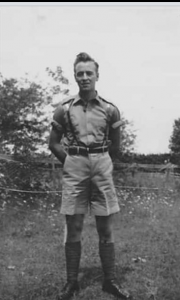 Arthur was born on October 14 1920 in Dalhousie New Brunswick as the son of John Cook Black and Jessie Ward Black, of Black Point, Restigouche Co, New Brunswick. His brother was Willard A. and sister Ethel W. Black.
He was a clerk/bookkeeper and member of the United Church.
He enlisted on September 3 1940 in Moncton New Brunswick and he went on August 19 1941 overseas to the UK and he went thereafter on June 6 1944 to France for the D-day landing.
Arthur was killed in action on Sunday February 18 1945 age 23 at the Moyland Wood during the battle of the Rhineland. And he was temporarily buried in Bedburg Hau Germany and he was then on September 13 1945 reburied in Groesbeek.
At his headstone: BELOVED SON OF JOHN AND JESSIE BLACK, BLACK POINT, N.B. HE DIED THAT WE MIGHT LIVE
His medals were: 1939-45 Star; France Germany Star; Defence Medal; War Medal; CVSM & Clasp.