Pte Arthur Arnold Black 10-C-15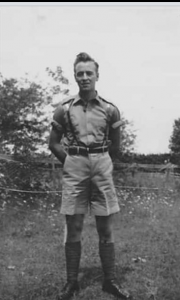 Arthur werd op 14 oktober 1920 geboren in Dalhousie New Brunswick als zoon van John Cook Black en Jessie Ward Black, uit Black Point, Restigouche Co, New Brunswick. Zijn broer was Willard A. en zuster Ethel W. Black.
Hij was kantoorbediende/boekhouder en lid van the United Church.
Hij nam op 3 september 1940 dienst in Moncton New Brunswick en hij ging op 19 augustus 1941 overzees naar het VK en hij ging vervolgens op 6 juni 1944 naar Frankrijk voor de D-day landing.
Arthur sneuvelde op zondag 18 februari 1945 op de leeftijd van 23 jr. bij het Moyland Wald tijdens de slag om het Rijnland. En hij werd tijdelijk begraven in Bedburg Hau Duitsland en op 13 september 1945 herbegraven in Groesbeek.
Op zijn grafsteen: BELOVED SON OF JOHN AND JESSIE BLACK, BLACK POINT, N.B. HE DIED THAT WE MIGHT LIVE
Zijn medailles waren: 1939-45 Star; France Germany Star; Defence Medal; War Medal; CVSM & Clasp.