Pte Alexander MacKenzie 26-G-4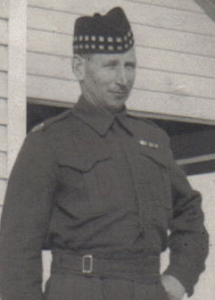 Alexander was born on May 5 1896 in Port Albert Ontario as the son of Donald and Mary MacKenzie (both were Scottish and already deceased). His brothers were Hector and Donald MacKenzie and his sisters were Grace and Mary MacKenzie. And the other brothers Roderick, John and James MacKenzie were already deceased too.
His profession was a logger and he was member of the United Church.
He was a veteran of WW 1 and was awarded the GS and Victory Medals.
He enlisted on July 10 1940 age 44 in Vancouver and he went overseas to the UK on September 2 1941 and he went thereafter to France on June 6 1944 for the D-Day landing.
Alexander was killed in action on Friday June 9 age 48 in the D Coy near Putot en Bessin and he was temporarily buried in Éterville and on October 13 1945 reburied in Bretteville S/Laize.
At his headstone: BORN PORT ALBERT, ONTARIO. SERVED 1914-1918, 1940-1944 "FOUGHT A GOOD FIGHT"
And his medals were: 1939-45 Star; France Germany Star; Defence Medal; War Medal; CVSM & Clasp.
His name is at the monument in Putot en Bessin.